Hi guys
This si my cockpit i created two years ago.
In this time I have read many topics on the forum,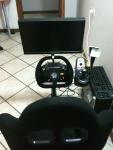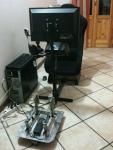 Now i just started with new project but i need help to find the right component for that project.
The thing is to install 2 wiper motor in the two side of the pedals.
I need suggestions on the electronic part,
Velleman and sabertooth or other (more easy to do)?
in the meantime I ordered the wooden base that will sustain the old structure.
on this basis will install engines wipers...
for now I have to find all the material to complete the frame.